Ok, I am not 100% sure if this will work I'm just going off a digram I found.
The purpose of this is to see if we can convert a vga connector to a Y-Pb-Pr connection for use on our crappy tv (Still waiting for the new projector to arrive).
DO THIS AT YOUR OWN RISK, IF YOU DIE TRYING THIS IT'S YOUR OWN FAULT!
Ok, I was thinking this morning, 'I wish I could use my old tv as a monitor without spending money?'.
Well I found this diagram of the pins of a VGA socket.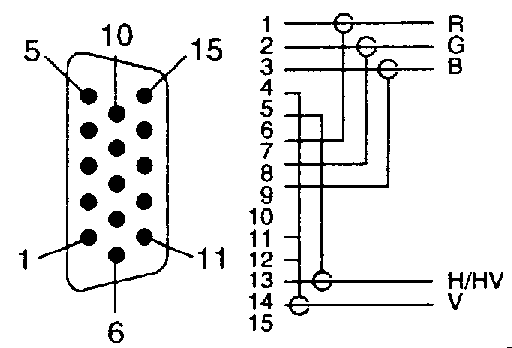 The idea is simple...
PIN 1 goes to: RED RCA +
PIN 2: GREEN +
PIN 3: BLUE +
PIN 6: RED -
PIN 7: GREEN -
PIN 8: BLUE -
AS I SAID, I'm not 100% sure if this will work but I will try it when I get a chance and post the results.
I cut up an old vga m/m cable and found that the rbg wires were coloured to corraspond and their associated grounds were twisted (like with an ethernet cable, twisted pair).